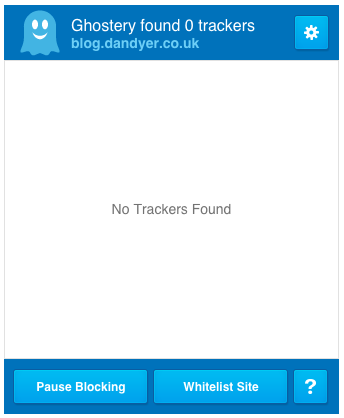 Some time ago I wrote about my issues with Google and its anti-privacy agenda. It was my intention to avoid using Google services where possible because I don't like Larry Page's vision and Google's (and Facebook's and others') tracking of individuals' activity across the web. I have very little to hide but that's not the point.
Two of the biggest enablers of Google's surveillance machinery are Adsense and Google Analytics. These services give Mountain View a foothold on millions of properties across the web, from which they can observe users activities and track them from site to site. Today I finally got around to removing these from my own sites. I never paid much attention to the analytics anyway and there are more privacy-friendly alternatives if required. Adsense never generated enough income to compensate for the cheapening of the message.
Other unrelated changes I've made to this blog include changing the canonical domain to blog.dandyer.co.uk instead of blog.uncommons.org (the old URLs will redirect). In addition, some time ago I disabled comments. There were occasionally a few worthwhile responses but over 99.6% of all comments submitted were spam. The bottom half of the web is generally a cesspit. If you feel the need to respond to something I've written, you can contact me on Twitter or e-mail dan at this domain.