A while ago I created a new website for my main Open Source project, the Watchmaker Framework for Evolutionary Computation. While the new website was a definite improvement over the previous effort, it was still lacking something. It wasn't distinctive. What I really needed was a logo, something that visually identified the project. But how do you represent evolution and/or a watchmaker in the form of a simple, distinct picture?
It was beyond my modest artistic skills so I headed to Reddit and floated the question of how to find a graphic designer who would be willing to contribute to an Open Source project. I wasn't expecting much, after all I was asking somebody to work for free on a fairly obscure project.
The usual way to get somebody to make you a logo is to find a professional graphic designer and pay them, or to stump up some cash to fund a contest on worth1000.com or 99designs.com. The prices start at $204 at the latter. I got a few suggestions from the Reddit crowd that I should try this monetary compensation idea.
I also got several people offering to produce a logo for me free-of-charge, and even a few who spontaneously decided to create something and submit it as a suggestion (see some of the links in the Reddit thread). I really wasn't sure if there would be many graphic designers who were interested in helping out Open Source software projects but it seems there are plenty. What is lacking is somewhere on the web to connect these willing designers with needy projects.
One of the people who got in touch to offer his services was Charles Burdett. He sent me a link to his impressive portfolio. I quickly accepted Charles' offer before he had a chance to change his mind. This meant turning down a number of other offers that I received. I'm extremely grateful to all of the people who were willing to help me out, and some of the concepts that people suggested would have made very good logos.
Charles came up with the concept that now adorns the Watchmaker project website – the clockwork Ichthyostega. To be honest, I don't even know how to pronounce that but Wikipedia tells me that Ichthyostega was a creature from the Upper Devonian Period. It was an intermediate form between fish and amphibian, so a significant step in the evolution of life on this planet.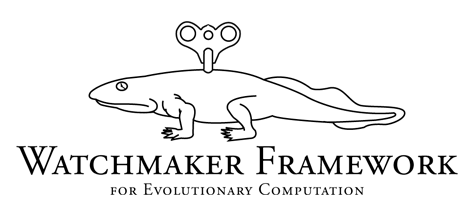 This logo fits in very nicely with the existing site design and, because it's a simple outline drawing, it should be very versatile for use in different contexts. I'm very happy with the result and I'd like to thank Charles for all of his work on this. If you like this logo, or any of Charles' other work, he is available for hire.