If you're not in the UK or you're not interested in the Beautiful Game and helping charities then this post isn't for you. I've generally tried to keep the articles on this site at least tangentially related to software development but on this occasion the link is a bit more tenuous than usual.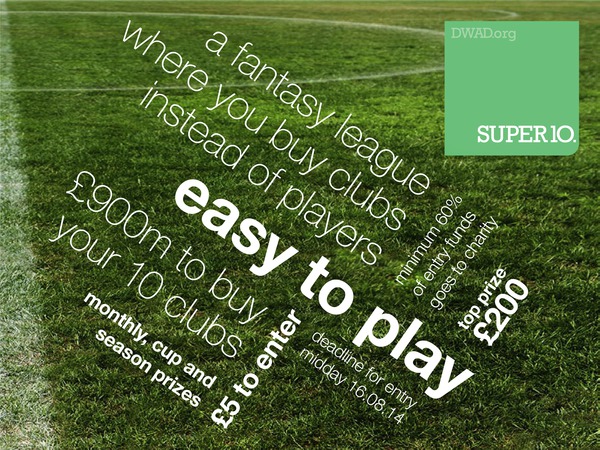 I'd like to ask you to consider playing our online charity football game, Super10. You can win a share of several hundred pounds in cash prizes and, more importantly, you can help to raise money for charities. The charity aspect is two-pronged. Firstly you can win money for one of the four organisations that the game is supporting this season (Demelza Hospice Care for Children, Kent, Surrey and Sussex Air Ambulance, Pilgrims Hospices, and homelessness charity Porchlight) and secondly all additional proceeds go to Donations With A Difference (DWAD), the newly-registered charity, of which I am now a trustee, that is running the competition. DWAD will use this money to make grants to individuals and organisations to support the improvement of physical health, mental health and education in the UK.
Super10 is a little bit like fantasy football except that instead of picking players, you pick ten clubs – seven from the English game and three from the top European leagues. These teams score points for you throughout the season. Compared to traditional fantasy football it's a low-maintenance game as there are no substitutions to deal with each week and transfers only occur during the January transfer window. You can make your selections and mostly forget about them. That said, it does have a way of making you care deeply about the results of teams you previously had no attachment to. Never been to Peterborough? Doesn't matter, you'll still feel the despair as they concede a late equaliser to Port Vale.
So what's the software angle? Well Super10 has been around for a few seasons, certainly much longer than I've been involved, but this year we're trying to take it beyond its previously limited scope. That has meant getting it fully online including being able to take payments online so that we can extend the game to a much wider audience and therefore raise more money. To enable this I've built the responsive Super10 website using Python, Django and Bootstrap. Much of the website was in use for most of last season but now we've extended it to open up Super10 to the whole country for the first time.
We're restricting Super10 to the UK only for now because we are not familiar enough with the laws governing this kind of competition in other countries. The deadline for entries is noon (BST) on Saturday 16th August. Give it a go and get your friends to play too.
Thanks,
Dan.